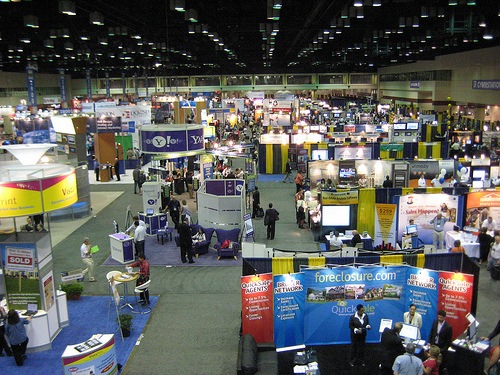 I know that it is hard to believe, but like it or not summer is almost over.  And that can only mean one thing, trade show season is almost here.  If you are planning on attending a trade show this fall, you should really go prepared so that you get the most out of your time there.  Many attendees simply just go to a trade show and walk around and collect the free giveaways.  That's great and all if your purpose of attending the trade-show is to expand your promotional product collection.  While getting promotional products are great, I'm sure you are attending the show for another reason.
Determining what the actual purpose of attending the trade show is the first step.  There are many reasons to attend a show, but figuring out what your particular needs are is very important.  One reason to go to a trade show is to meet new vendors or suppliers.  You will have the opportunity to meet several new suppliers as they will be exhibiting at the show to demonstrate new products and services to their target markets.
The second step is prepare yourself to make sure you get what you need out of your interactions with the vendors at the event.  Figure out what questions you need answered by the vendors.  Plan ahead for exactly what you need to know in order to work with the potential new vendor.  Feel free to arrange for meetings with the vendors at another time to further the talks for doing potential business with them.
The third step is on of the most important, have some fun.  Try to make time to see attend a presentation or educational seminar that may take place during the event.  Gaining knowledge and information inside your industry could give you an edge over your competition.  Also, feel free to strike up conversations with other attendees.  You never know who you could meet.  You could be talking to a future employee or even a potential partner for an upcoming project.
The key to a successful trade show is to be prepared.  Make sure you cover all of your bases to ensure that the purpose of your attendance is fulfilled.  Have a happy trade show season!